Basic Methods of Protection
Home > Radiation Protection and Quality Assurance > Radiation Protection > Fundamental Principles > Basic methods of protection
    Basic methods of Radiation Protection consist of three strategies Time, Distance, and Shielding. These three methods have been widely used till now to reduce exposure of exposure to individuals, and public. The basic are explained briefly below.
Points to do minimize exposure:

The time consuming in some potential situations can be reduce by executing the pre-planned situations and works.

In Emergency situations the work can be shared by group of people who are eligible to do that work. In this way also exposure will be reduce.


Shielding:


         Perhaps to time and distance, shielding is significant one in achieving the radiation protection. Though, time and distance could be factor it is not possible to give enough distance and it is also not practical phenomenon. So, that adequate shielding is required to protect against radiation.


The thickness of the shielding material could vary for different materials. Most common materials used for shielding purpose are listed below.


     Name                                        Density (gm/cm2)

      Lead                                                    11.35

      Steel                                                     7.87      
         
   Concrete                                                 2.35

 High Density Concrete                            3.8 -4.6

Polyethylene                                              0.92


The below figure shows the attenuation by shielding: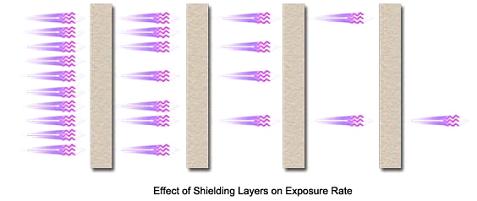 Questions:

1. Exposure rate measured at 8inches is 30mR/hr. what is the exposure at 2 inches?
a) 400 mR/hr
b) 480 mR/hr
c) 450 mR/hr
d) 470 mR/hr


2. What is the density of Lead?
a)11.35 gm/cm
b)11.35 gm/cm2
c)11.00 gm/cm2
d) None of these.

Answers:

b) 480 mR/hr
b) 11.35 gm/cm2

References:

1. safety series no. 115

2. http://emilms.fema.gov

3. www.pubiaea.com

4. www.nrc.org

5. Basic Radiological Physics by Dr. K. Thayalan

Home > Radiation Protection and Quality Assurance > Radiation Protection > Fundamental Principles > Basic methods of protection