Geiger-Muller Counter
Home > Radiation Protection and Quality Assurance > Radiation Physics and Biology > Measurement of Radiation > Instrumentation > Geiger Muller Counter
What would you like us to write about? Click to leave feedback.

We are thinking of adding interactive questions. Click here to vote.
Geiger-Muller (G-M) Counters produce a large voltage pulse because the numbers of ion pairs produced are greatly amplified, by the phenomenon known as gas multiplication. Gas multiplication is induced by a strong applied electric field.

After creation by radiation interaction, both electrons and ions make many collisions with neutral gas molecules until collected. When the electric field is strong enough, electrons get high kinetic energies between collisions and eventually can ionize neutral molecules as illustrated in Fig. 3.8 while ions have low mobility and they attain very little energy between collisions. The two electrons can then be accelerated and further ionization's can be caused. The process takes the form of a cascade (Townsend avalanche). The electric field must be stronger than the threshold. The fractional increase in the number of electrons per unit path length is governed by the Townsend Equation:

                                                                            dn/n = αdx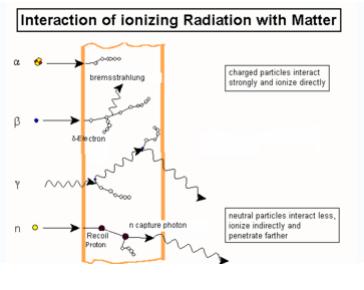 FREE Infographic What successful people believe. What successful people do
Questions:

1.What are the quenching gases used in the GM counters?

a) Ethyl alcohol and ethyl formate
b) Benzene
c) Argon and neon gases
d) All
References:
1. G.F. Knoll, Radiation Detection and Measurement - 3rd edition (Chapters 16 to 18), John  Wiley & Sons, 1999.
2. A.J. Waker, Radiat. Prot. Dosim. 61 (1995) 297.
3. S.H. Byun et al., Phys. Med. Biol. 52 (2007) 1693
4. F. Sauli, Nucl. Instr. Meth A 386 (1997) 531.
5. F. Sauli, Nucl. Instr. Meth A 505 (2003) 195.
6. F. Sauli, Nucl. Instr. Meth A 522 (2004) 93
Home > Radiation Protection and Quality Assurance > Radiation Physics and Biology > Measurement of Radiation > Instrumentation > Geiger Muller Counter